About me
My story with Amon Amarth (and their records).
I discovered the band in 2006 when a friend invited me to their show in Paris (Elysée Montmartre) with Tyr and Wintersun. The funny things is that another friend told me, just before they began to play, that he wasn't sure I would appreciate them (my favorite band was Metallica). And he was so wrong! It was a discovery and a musical slap on the face.
After that event, I began to buy some albums, "With Oden On Your Side" at first (digipack version, during a trip to the USA). The bonus tracks (the extracts from the Wacken festival especially) made me want to see them again live. Unfortunately I missed the gig with Dimmu Borgir in 2007. So, my husband and I decided to go to all the next French shows. In 2009, we went to Paris, Nancy and Lyon shows. The Lyon show made a big impact on me, it was really amazing, the band and the crowd were on fire. I think it was actually at that time I fell for Amon Amarth and my passion began.
Since then, I'v bought all the albums, have been to many shows, in France and in Europe (Germany, Netherlands, Belgium, Norway, England). Even if I genuinely like the albums, I prefer live shows. They have so much energy on stage! Lucky me, at the end of the shows, I've been able to collect some pics, set lists and drumsticks. I was also able to get the band autographs on some items during the 20th anniversary tour in 2012.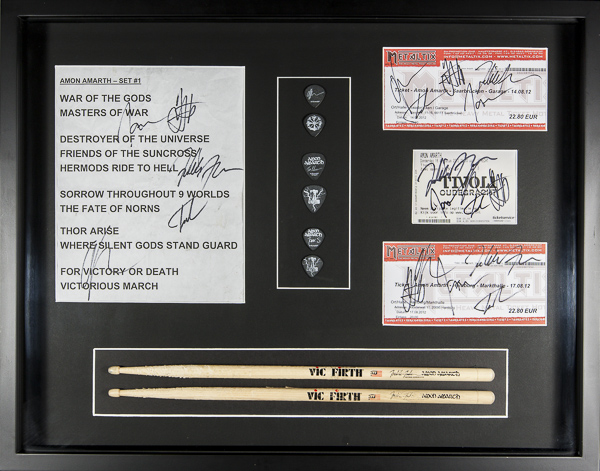 And I've have the chance to get my picture taken with Fredrik, Ted and Olavi in 2015 before a show.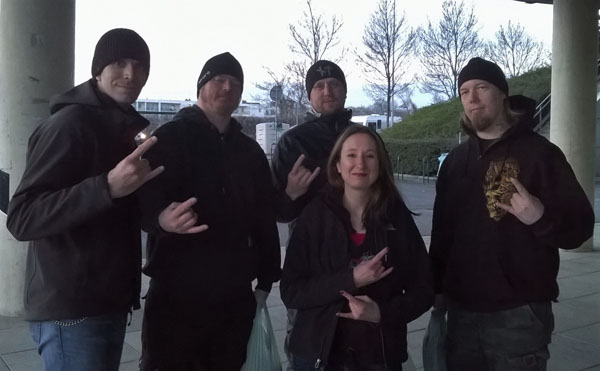 My collection started later, in 2011, when "Surtur Rising" was released. The limited editions for Nuclear Blast (splatter yellow/red), Cyclone Empire (ruby) and EMP (splatter red/black, still my favorite) with the fourth side etched were so beautiful and I couldn't stop myself from buying them all!! Then I discovered that "Twilight Of The Thunder God" was etched too. Afterwards Back On Black released re-issues of old albums in color editions. I've a fondness for vinyls, their size allows us to appreciate the cover, and the object itself has something old school that I like, and requires a certain preparation to be listened (yes I listen to my vinyls!). My husband, a collector himself, is truly good at finding interesting stuff and found a connection to get rare records from. And for Christmas 2011, he offered me 7 Amon Amarth LPs including picture discs and test pressings! So far I've tried to have all records existing about Amon Amarth but it's a hard task, and I've pre ordered all the versions I found of the last album.
Enjoy the site
Muriel